Seagull-scientific
jonas
Seagull Scientific – Delfi Partner
---
Delfi Technologies collaborates with Seagull Scientific on the innovative BarTender®. label software. With BarTender label software, you can avoid errors and optimize your print jobs. With this solution you can easily and conveniently design your shipping labels, price tags and many other types of labels.
The BarTender software transforms information into labels, barcodes, RFID tags, smart cards and documents.
BarTender helps customers around the world improve security, efficiency and compliance through lightweight, powerful design; fast, accurate printing on demand; comprehensive system control; straightforward integration and legendary technical support.

At Delfi Technologies, we can help you choose the right solution with BarTender label software for label design and printing. BarTender software gives you tools to easily and efficiently design labels and templates, configure and connect to data sources and other systems, and initiate print commands from different systems, operating systems, and devices.
BarTender software also allows you to improve safety and your efficiency – while at the same time adhering to guidelines and standards. It is possible by creating and automating the printing and handling of labels, barcodes, RFID tags, plastic cards and several other types of labels.
TRY BARTENDER 2022 FOR FREE FOR 30 DAYS
Seagull Scientific has just launched the latest version of the popular BarTender label software – with even more options to improve your print jobs.
Delfi Technologies, in collaboration with Seagull Scientific, has created several print solutions with the BarTender label software. And now we want to give you the opportunity!
So if you want to avoid mistakes and optimize your print jobs, then you should choose BarTender so that you can easily and conveniently design your shipping labels, price tags or other types of stickers.
Right now you can try a 30-day trial version of BarTender, where you will have all functions available, and then you can evaluate which version you should have in the future. Try BarTender 2022 here:

WHICH VERSION IS BEST FOR YOU?
For more information on which version is best suited for your business, read more about BarTender here.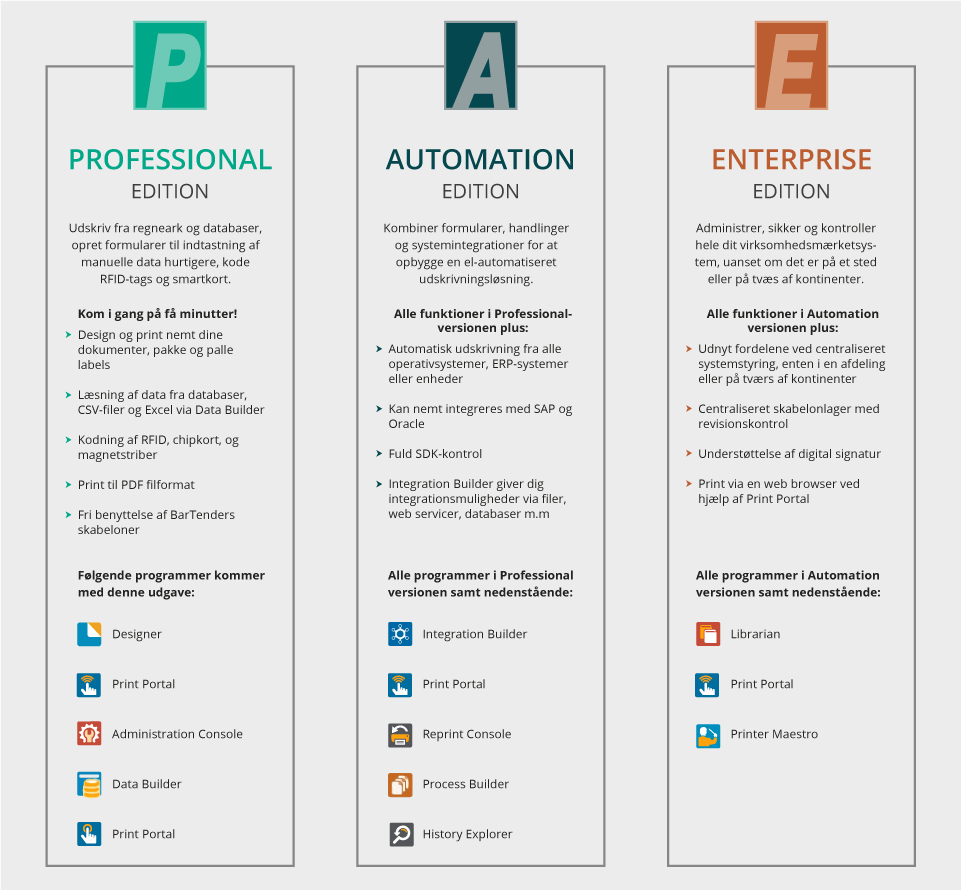 ---

BARTENDER CLOUD
Simple. Easy. Powerful.
Simplify and centralize your label printing with greater ease-of-use and minimized IT burden – available when you need it, enabling users to print from any web browser or mobile device.
BarTender Cloud leads the next revolution in barcode and RFID labeling through an all-new SaaS platform.
High-speed printing from desktop and mobile devices with driverless printing and management
Create compliant labels with ease – no design experienced needed
Easily connect your existing label data for increased accuracy and traceability
Seamlessly integrate with your current tech stack
Centrally manage security, users, and systems
Label printing available whenever and wherever you need it
BarTender Cloud supports any printer. With BarTender Intelligent Printing, you will not need to install or manage any printer drivers. BarTender Cloud will automatically detect connected printers and print using one of nearly 8,000 Seagull printer drivers to deliver a high-performance optimized print job.  For all other printers, print to PDF is available.