Digital solutions for ticket systems
Ticket systems are represented in a wide range of industries but the systems are changed along with the increasing digitalization. From selling and delivering tickets made of paper, many culture institutions and businesses now use digital ticket systems which are administered by big portals. The customers can buy and download their tickets to their smartphones and therefore just need to remember their phones to the event, where the tickets are scanned with e.g. a barcode scanner and thereby are registered via a QR code on the smartphone screen.
The ticket systems not only follow the digital development, they also save many environmentally heavy ressources due to the declining paper consumption. Therefore, the digital ticket solutions also contribute to a more sustainable way of selling tickets. Though, in most places, it is still possible to bring a printet paper ticket which can be registered the traditional way.
At Delfi Technologies, we have a good selection of products and solutions for ticket systems; regardless if your company has a fully digitalized ticket system or if you still handle physical, paper printed tickets, which we have put together in the guide below.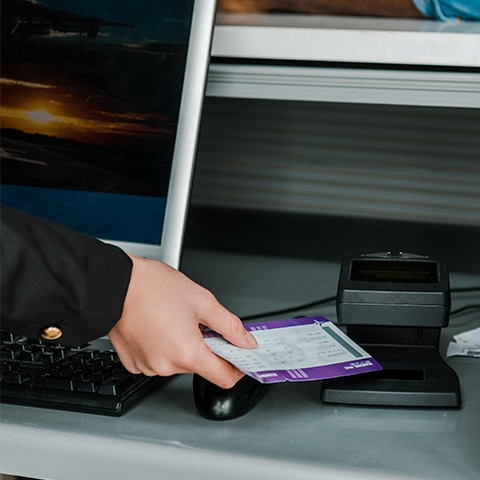 Barcode scanners for tickets
Regardless which company or institution you have, a barcode scanner is great tool to scan and register your customers tickets. At your cash register or check in station you're both able to connect a wireless or cabled barcode scanner, which easily and efficicently can assist your existing booking system.
DelfiScan M81 is a wireless barcode scanner which both reads 1D/2D barcodes and QR codes. The wireless function makes it super flexible to scan outside the cash register area and the battery lasts up to 14 hours. The cabled DelfiScan C81 reads same types of codes, and you're always secured a ready-to-scan barcode scanner.
Handheld terminal/ PDA for tickets
Another fantastic tool for scanning and registration of tickets is a handheld terminal/PDA, which definitely is a front runner on the digital track when it comes to ticket management. Are you hosting a concert or running a cinema, a PDA can be a indispensable tool for your employees to register your customers and at the same time give them informations about seating, when you simultaneously connect your own ticket software to the PDA.
Label printer for tickets
At Knuthenborg Sarafipark they use pre-printed tickets which they can print additional text on themselves with the Citizen label printer CLS521II. The printer is made for printing Direct Thermo labels which are often used for labels with a short durability, which are also the case for tickets. If you need to adjust the text on your tickets according to a specific season or event, this solution is ideal for you.
Ticket printer for tickets
Citizen has developed this CL-S400 labelprinter which is particularly suitable for printing tickets – regardless if it's boarding passes for your customers flight or for your customers concert entrance. Furthermore, it has a practical size and is really user friendly for your employees. This label printer also uses the Direct Thermo technology, which demands DT labels. You can see our full selection of labels here.