Digital warehousing and shipping solutions for webshops
Are you running a webshop, it's guaranteed that you also have a stock system that controls your products and supports your sales. Regardless if you're a newly started webshop with stock in the basement or you have an established E-commerce business with a big warehouse, you definitely need digital tools to assist the registration, picking, and shipping of your products. If you need a label printer to print your freight labels, for marking your inventory, or if you need efficient stock status solutions, we can help you with the right solution.
At Delfi Technologies we're specialists in hardware and software solutions and know, how to optimize your business with solid tools, which can support your sales and the growth of your webshop. We have made it easy for you to get started with optimizing your webshop warehouse with this guide, where you both find recommended products, software solutions, and examples of customers we have helped.
Label printers for print of freight labels
When receiving and processing your webshop orders, your customers have already chosen what freight company they want their bargain to be delivered by. For this, a label printer is a great tool as it quickly and efficiently can print freight labels, which you can apply to the packages and ship for your customers. Below you can see our two recommended label printers for printing freight labels when running a webshop.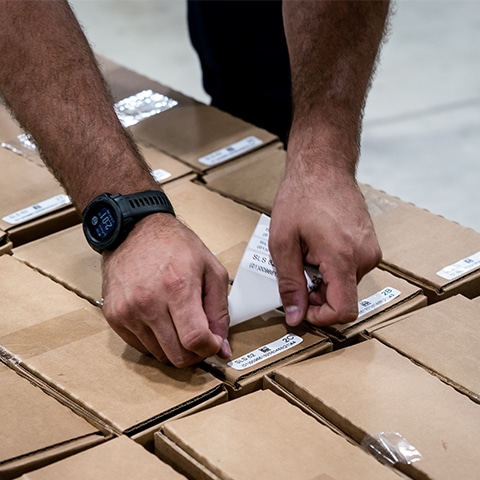 Labels for printing freight labels
A label printer can't stand alone, why it's important for you to choose the right labels for your new label printer. When you're using labels to print freight labels we recommend two types, which are both suitable for freight labels. Since our recommended label printers work for Direct Termo (DT) labels, it's only Direct Termo labels that can be used, which both recommended types of labels are. Direct Termo means that the colour already lies within the label and the label printer only needs to heat the label to make the colour and text visible. This method makes the label, less durable, which fits the expectations of freight label durability since it's only meant to last for a couple of days.
Delfi Label 100 x 150mm is particularly good for DAO or GLS freight labels. Where Delfi Label 102 x 192mm suits PostNord and Danske Fragtmænd freight labels, and is recommended if you use Shipmondo, which you can read more about below.
---
Ship your webshop orders with Shipmondo
Shipmondo can make it much easier to handle your webshop orders. Together with your existing economic system, E-commerce system, and a label printer connected to Shipmondo, you can easily and quickly print freight labels, return labels, and delivery notes when receiving an order.
When receiving an order on your webshop, you can handle all the phases with Shipmondo. From opening the order and printing the picking note, to delivery and invoicing. After these phases, your package label is ready to be printed via the label printer with all details of the delivery, company, and the customer's information put together from a template. Then, all you have to do is wait for the freight company to pick up the package and deliver it to the customer.
We have made a special guide for you to get more information about Shipmondo, which you can read here.
---
Handheld terminal/PDA for Click-and-Collect at your webshop warehouse
Our popular handheld terminal, Delfi PM85 is a true winner for, among other things, registering the receipt of your goods, picking, and moving products including stock status, especially if you put the right software in the PDA. It uses Android 9, and it's therefore easy to connect to your existing system. The smartphone's look and functions make it user-friendly, why all your employees can use it without any further training.
When using the handheld terminal for the above, it's important to have the right warehouse software, where we offer Delfi Mobile Warehouse which is our self-developed software solution for Android units like the PM85. The solution is subscription-based and you get the right of use to our warehouse module, which contains the most common functions for product registration. Furthermore, you are secured the necessary support and maintenance of the software.
Delfi Mobile Warehouse is valuable since it:
Increases the efficiency in your warehouse with digital processes
Reduces time-consuming tasks and manual work
Provides faster workflows and saves time
Provides the necessary registration of goods
If you're interested in optimizing your webshop warehouse with PDAs and Delfi Mobile Warehouse, you can contact us at the bottom of the guide, and we will help you with a complete warehouse solution for your webshop.
---
We have helped these companies with a better warehouse solution for their webshops
We have helped a wide range of companies with optimizing their existing warehouse solution. At Løbeshop.dk and SkatePro, we have helped with better tools to handle their webshop stock since both have experienced great growth, and therefore needed more efficient warehouse solutions. Below you can read our cases with the two companies.