Effective inventory with complete stock count kit
For many companies, inventory counts are just around the corner – some are facing the need for inventory in connection with accounting clearance, others just need a continuous control and overview of the inventory to ensure effective inventory management. No matter what the need is, it is often a time-consuming and resource-intensive task that is wanted to be done quickly, but also as accurately as possible. To avoid manual errors and at the same time create more efficient work processes, a barcode solution with scanners can be used to count the inventory.
What is the purpose of stocktaking?
The purpose of stocktaking / inventory is to count the stock levels in order to get control and an overview of your inventory. The inventory assignment is not only intended to provide an overview of the inventory, when the inventory count has been completed, but also to check any inventory losses.
For example, if you run a store that sells lamps and has purchased 500 lamps and sold 400 of them, there should be 100 pieces back in your stock. On the other hand, if there are only 50 pieces left, then it is often necessary to adjust the inventory or write off the items so the actual inventory matches the inventory count. Inventory control due to shrinkage is not an abnormal event today, but you need to adjust the number down to get your inventory to match again.
There may be several reasons why your inventory may not be correct and there is a difference in the stock levels. This could be due to either theft, misregistration of returned goods, or discarded/defective goods which are not registered correctly. With a handheld terminal / PDA and continuous inventory count, you can optimize inventory management and minimize waste. In this way you save both time and money in the warehouse.
The inventory statement is also used in financial reporting. Inventory is a significant part of this. When preparing the financial statements, you need to know how much value you have in your inventory. This applies whether it is a physical store, webshop, or another type of business with items on the shelves.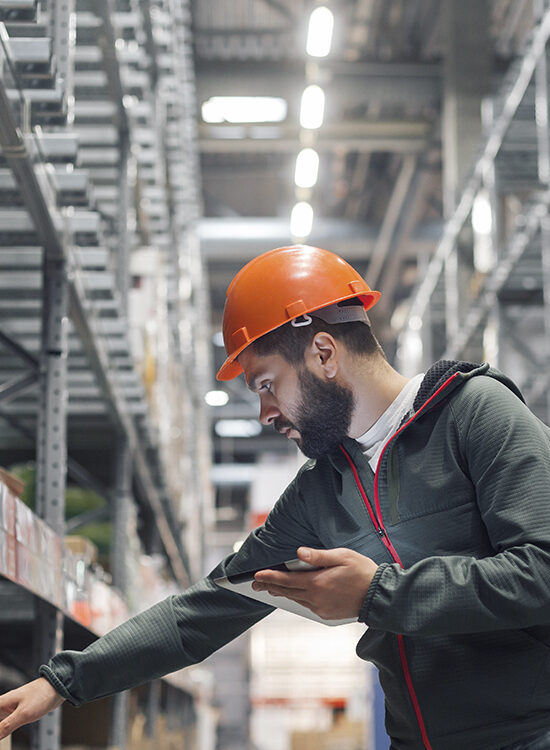 How does inventory work with a scanner?
When you use a handheld terminal (scanner) for your inventory, you minimize errors in the count and at the same time, it is more clear and quick to count the stock. By using a handheld terminal from Delfi Technologies, your stocktaking is safely and quickly completed with the built-in warehouse software, which keeps track of the many registrations. The scan can be done both online and offline without internet access, depending on your needs. After scanning has been completed, a comma-separated file is created containing the scanned elements as well as numbers, which are easily transferred for import into any dedicated financial system (eg Dynamics NAV).
If you have any questions regarding this, please feel free to contact us at any time. We have more than 30 years of experience with barcode solutions and software, including inventory solutions. Are you in doubt whether your handheld terminal / PDA should read 1D or 2D barcodes? See our barcode guide and learn more about the different barcode types.
Faster stocktaking with Delfi PM85
Delfi PM85 is a compact PDA in a nice ergonomic design, built to improve productivity, which makes it particularly suitable for inventory counting.
A 5-inch rugged, rugged device with 1D and 2D scan engine. The batteries are removable and rechargeable with an extended battery life of 5,800 mAh.
Brand new scanner provides improved performance
The new high-resolution scanner improves readability and reads down to 3 millimeters of 1D barcodes with white LED illumination, providing better readability of colored barcodes.
Lower power consumption helps increase battery life.
Ready for any rugged task
The Qualcomm Snapdragon Octa-core processor runs at 1.8 GHz for maximum performance. Up to 4 GB RAM and 64 GB ROM, so there is plenty of space for applications, apps and personal data. It has an IP67 rating. The 5 "IPS screen is equipped with Gorilla glass that is splinter and scratch resistant.
The multi-touch display can also be operated with pointers, fingertips or gloves – even if the screen is wet.