How to choose the right handheld terminal/PDA
The selection of handheld terminals and PDA's is wide, while we see an increase in even more digitalized processes. The need for digital and handheld tools has therefore also increased. It can seem unmanageable to know what type of PDA that fits your company's needs. Handheld terminals have become an indispensable tool in many businesses, which is caused by the increasing demands for data disciplin, data registration and precision. PDA's definitely optimize and streamline your employees work processes and due to the precision, it can save a lot of time and the amount of errors, which in the end not only affect the efficiency of your employees, but also the quality of the product or service your company offers.
Therefore, the bargain of one or several PDA's is absolutely an investment in your company and the value which it adds to your work processes, has quickly exceeded your costs. We have made a guide for you when looking for handheld terminals – even though it might be your first time investing in a PDA or if you just need to upgrade your old one. We are ready to help you choose the right PDA for your company's needs and future plans. We are also ready to advise or help you with a more complex solution – or just a more specific guidance. Please don't hesitate contacting us.
Considerations before choosing your new PDA
Before reading our guide, it is necassary to consider some important factors, before deciding what model that will fit your company:
Where do you need to use the handheld terminal? In your store, in your warehouse or on the road?
What kind of environment does it have to fit into? In a rough environment like in a warehouse, or in a trendy store environment?
What do you need it for? Order goods, creating orders, stock check, click-and-collect or something different?
Have you chosen the software you need to use for your PDA? What demands are necassary?
How do you need the unit to be connected to your existing system? Via Wi-Fi, Bluetooth or maybe offline?
Which environment do you need to use the PDA in?
Down under you find our best recommendations of PDA's for specific industries and environments. You're welcome to contact us if you need further specifications or guidance choosing the right PDA.
---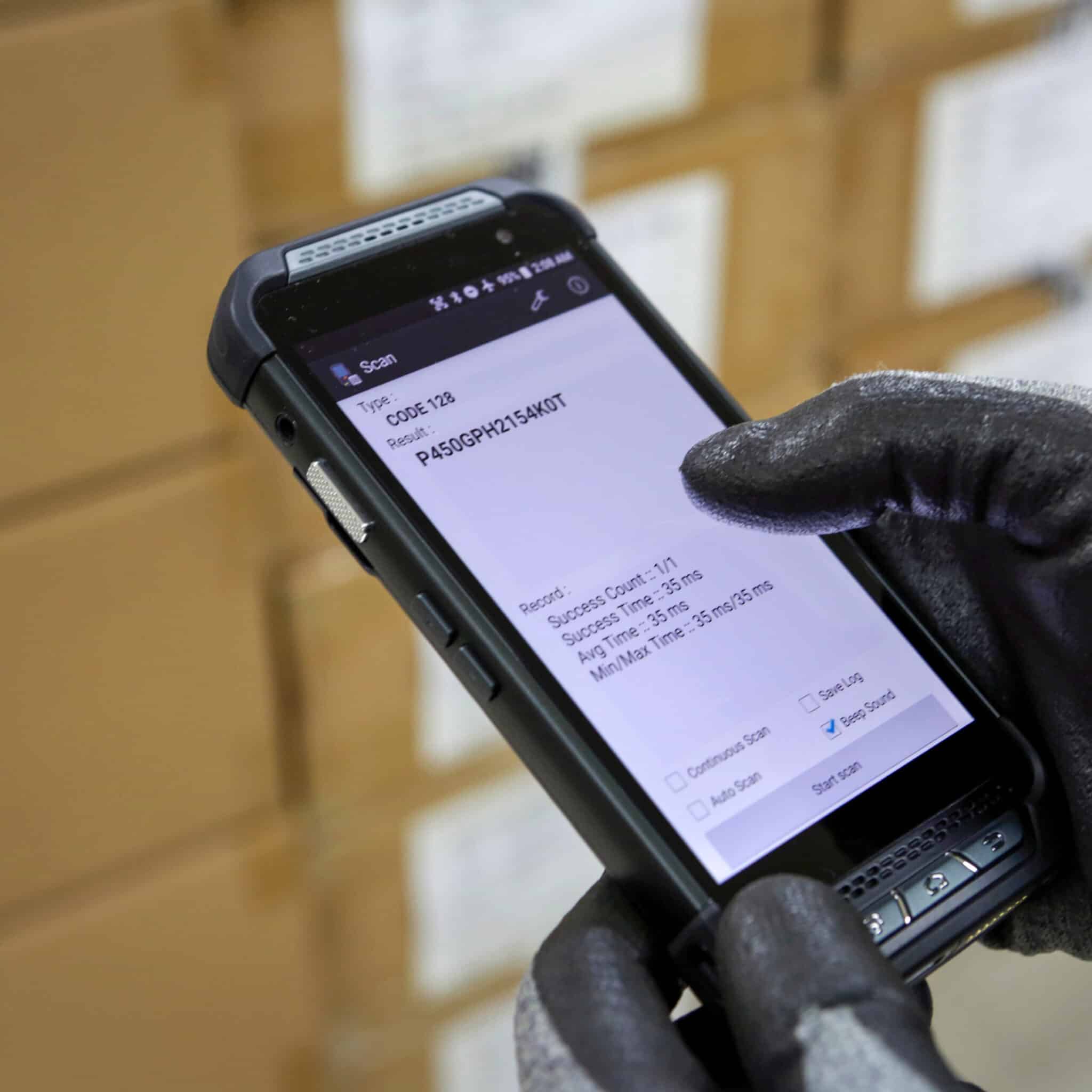 Handheld terminals/PDA's for stores
Handheld terminals can make a big difference in your store operations since your employees, among other things, can order goods or products directly on the floor, check up stock status and make an efficient inventory count. Maybe you already have an older PDA for your store but are being inhibited by obsolete technique, bad battery life or periodic faults. Therefore, you can save many ressources by not having to maintain old systems and terminals, wait for a slow processor or connection. Furthermore, you might want a PDA which fits into your store environment and looks more like a smartphone than a big and rugged model.
The advantages of investing in PDA's for your store are:
You are able to order goods and check up stock status directly on the floor while serving your customers
Efficient inventory controls
Less miscommunication due to more up-to-date-data via the PDA
We have therefore collected some modern and future-proof handheld terminaks/PDA's, which we recommend for streamlining your store operations:

---
Handheld terminals/PDA's for warehouses
With a handheld terminal in your warehouse you can optimize your work processes and thereby your employees efficiency. It's crucial to have your stock numbers in real time to secure clarity of your inventory at all times. Especially if you're also operating with a webshop which shares the same stock as your physical store. With the PDA you can register incoming goods and get a precise overview of the inventory of your stock including the locations. When choosing one of our recommended PDA's for your warehouse, you have to be aware of if you need to use it in a dry, cold or frost warehouse. Furthermore, you can select different button functions; as touchscreen or manual keyboard. It's also important to be aware of the rough environment and choose a solid and rugged handheld terminal. Finally, it's important to assess which distance your PDA have to scan from since this depends on the scanning capability.
The advantages of investing in PDA's for your warehouse are:
Correct registration of your stock; both of incoming and outgoing goods
Registration of your goods locations
Click-and-collect if you need to collect goods from orders for shipping
We have collected a selection of handheld terminals/PDA's which suit the work at warehouses perfectly.

---
Handheld terminals/PDA's for field service and the craft industry
Many companies in the field service industry uses older systems and often paper based solutions. E.g. if you are a self-employed electrician you can use a handheld terminal/PDA for creating orders when visiting a customer and avoid the paper work or indicate wrong working hours since you have to remember them until you get home. It is also possible to register your material consumption directly at your task, e.g. how many different wires you have used. When choosing a PDA for the field service industry it's important that it can be connected to the internet via SIM card/3g. It's also an important factor to have a handheld terminal with a large battery capacity since you're not always guaranteed a power station on your task. When using the PDA within the craft industry it also has to be resistant to all kinds of weather.
The advantages of investing in PDA's for the craft industry are:
Register your material consumption directly at your task
Create orders at the customer
Monitor your stock
We have collected some different types of handheld terminals/PDA's which are all ideal for both field service and the craft industry:
---
Handheld terminals/PDA's for the health care industry
An increasing number of companies and public institutions within the health care industry have started to use handheld terminals. In that way, they both efficient the many registrations of informations, dosages and notes about the patients or customers. With a PDA in the employees hand the patients also receive an even more safe treatment. Software in the handheld terminal can double check that the right patient gets the right medicine and thereby minimize the risk of serious faults. With the PDA it's possible to write notes directly at the patient, and thereby improve the informations to the other coworkers who later on will be in contant with the patient. It's farely easier to remember the right informations for the notes when you're near the patient and you don't have to leave the patient to type in the notes on a PC in another room.
The advantages of investing in PDA's for the health care industry are:
Register patient informations directly at the patient
Make notes about the patient in the PDA for your coworkers
Order goods, medicin or aids through the PDA
We have collected a selection of PDA's which definitely will optimize the work methods for your employees and also secure the patients a more safe and smooth process:

---
Subscription based PDA solution – from DKK 295 a month
PDA solutions don't have to be a complex solution which demands big investment considerations anymore. Earlier, the solution with handheld terminals were intended for bigger and well established companies who demanded complex systems to keep track of their inventory, order handling and logistics. Today, it is possible to get a cloud based PDA solution – even if you just need a single PDA with a subscription solution from Delfi Technologies.
Delfi X Cloud is the newest solution within barcode solutions and software from Delfi Technologies. Delfi X Cloud is a complete cloud based PDA solution for mobile Android units which helps creating traceability, increased control in the logistic chain and streamlining the everyday life for companies. Often companies have heavy and slow work processes in the warehouse or in the store which can be optimized significantly by replacing manual and paper based processes with a digital handheld terminal solution. Minimize faults in your orders at the click-and-collect fase by implementing a PDA solution which secures the right goods getting picked, packed and shipped. With Delfi X Cloud you can create a overview throughout both the logistics and inventory flow of your company.