How to choose the right barcode scanner
Barcode scanners are more indispensable than ever. A barcode is often attached to everything that goes through companies these days and should therefore be registered to secure a complete stock overview.
Likewise, barcode readers are easier to use too, as you no longer need complex installations. You can simply connect modern barcode scanners to a computer, tablet or cash register system (POS system) via USB, WiFi, Bluetooth or other popular interfaces – which work after a few seconds. Along the easier way of using a barcode scanner, the selection has increased which makes the decision of choosing the right model even more difficult. Choosing the right barcode scanner can be challenging if you don't recognize the different types and options in the market.
The first step of finding the right barcode scanner is to identify your specific needs:
Where do you need the scanner? In a tough environment e.g.?
How often do you need the scanner?
What type of barcode do you need to read?
How do you want to use the scanner?
After considering and finding your answers, the first step is to find the best barcode scanner for your needs. In principle, you will often be able to use any barcode scanner, but by choosing the correct type and model, it will eventually save you both time, money and adjustments. It is crucial to read and register the data correctly and therefore you should never compromise, when choosing the right barcode scanner. Luckily, barcode scanners are not that expensive, which makes it even easier to choose the right scanner from the start – without having to worry about the price. In the next sections, we will tell you more about the different options to help you choose the right barcode scanner.
Where do you need to use the barcode scanner?
Barcode scanners for warehouse
When choosing a barcode scanner for a warehouse, it is important to choose a rugged scanner with a long scanning capability, which is easy and quick to handle – also from sitting in a truck. We will recommend one of the following three barcode scanners. These models are all incredible durable, have long scanning capabilities and are also wireless. Zebra DS3678-ER, Datalogic PM9501, Honeywell Granit 19871. You can see our full selection of barcode scanners here.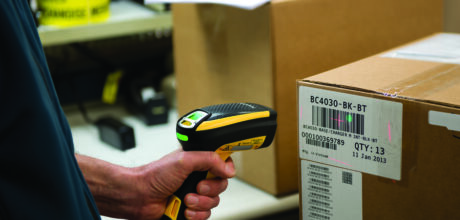 Barcode scanners for shops
There are several aspects to be aware of when choosing the right barcode scanner for your shop. Partly, it needs a great design to give your customers a good experience. It also needs to be ergonomic for your staff. Furthermore, it is important for the barcode scanner to have a good scanning engine to ensure the reading of barcodes without moving the scanner too much. You also have to consider if you want the barcode scanner to be stationary or mobile if in need of scanning out of the cash register area, e.g., in big furniture stores where it is necessary to reach products that can not fit the cash register. Many stores use older POS systems and POS PC's that demand a cable connection, which is the most loyal connection, but also limiting because of the cable length. Depending on your needs, we recommend these scanners; Datalogic Magellan 3450VSi if you need a stationary presentation scanner, which is always on and ready to scan quickly at a cash register. DelfiScan M81 if you need a wireless and economical barcode scanner in world class. DelfiScan C81 if you are looking for a cable scanner, which can be used as both mobile and stationary barcode scanner. Zebra DS9308 if you need a quick and effective scanner for your shop. You can see our full selection of barcode scanners here.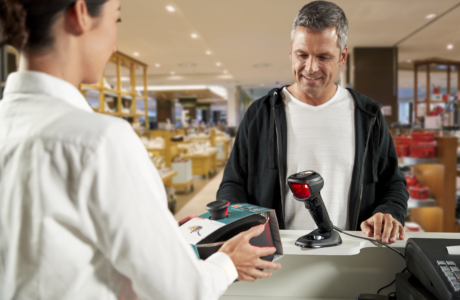 Barcode scanners for web shops
When choosing the right barcode scanner to handle your web shop orders, it is important to be aware of flexibility, in addition to secure efficient processes and handling orders quickly. You must think long term and consider where you want your web shop to be in 5-10 years, and thereby choose a barcode scanner to assist you along the way, without any restrictions. A barcode scanner often has a strong durability, and it will be a loyal companion for many years.
You are maybe not dealing with a lot of orders at this point and think you can settle with a simple solution and scanner, but in few years, you might be handling so many orders, that you need to optimize your processes to follow along. This involves the logistics and the registration of your stock as well. You must be aware of the logistics from the very beginning by marking your stock and shelves with location barcodes, and get it implemented in your shop system, so you always have an overview of your products' locations and therefore secure a quick and effective packing of your orders. Consider having a packing station and trolleys with numbered trays so you can pick multiple orders at a time. For this you should use a wireless barcode scanner to control and compare the orders getting picked with the order list. We can help and support you with implementing a complete inventory system for your web shop and stock – alternatively, with PDA's/handheld terminals, which can optimize the processes even more.
For your web shop, we will recommend: the wireless DelfiScan M81, the cabled DelfiScan C81, the powerful DelfiScan C91 and Datalogic Gryphon GM4500. You can see our full selection of barcode scanners here.
Other important considerations
Barcode scanners with 1D or 2D
Often, the 1D barcode scanners will be enough for most companies. The only struggle is reading 2D codes like QR codes. These types of barcodes are not possible to read with a 1D barcode scanner. If you want to use a 1D barcode scanner, we recommend these two scanners, Honeywell Voyager and Datalogic Quickscan QM2131. Are you thinking more long term, or just both need the possibility to read 1D and 2D barcodes, we recommend our bestsellers, the wireless DelfiScan M81 or cabled DelfiScan C81 barcode scanner. These barcode scanners are used in many different industries and situations, both in warehouses, in stores and in the health care system, and are all able to meet your needs. You can see our full selection of barcode scanners here.
Are you in doubt, whether you can read 1D or 2D barcodes, or having trouble knowing the difference of these, we have made a barcode guide, which explains the difference.
Wireless barcode scanners
If you want a barcode scanner, but do not want to struggle with a lot of visible cables, you should have a look at the many wireless barcode scanners in the market. The advantage of using a wireless barcode scanner, is the work flexibility. You are no longer locked to your workstation, and you can scan from different heights and lengths, and still secure your data being correctly registered. Ring scanners are very popular as well. With a ring scanner you have free hands to pick, pack and use your hands during your work process. Therefore, it is not necessary to put the scanner down between the scanning. We recommend these ring scanners: Zebra RS6000, Datalogic Bluetooth Handscanner. If you need wireless barcode scanners, we recommend our bestsellers DelfiScan M81 or Datalogic Quickscan QM2131. You can see our full selection of barcode scanners here.
Cabled barcode scanners
If you want a traditional barcode scanner, and you do not need the flexibility of moving the scanner away from the workstation, packing station, cash register or so, we also have some good solutions to the perfect cabled barcode scanner for you. The advantage of using a cabled barcode scanner is that you will never have to worry about battery level or if the scanner has connection to the PC or data system. We recommend our DelfiScan C81 barcode scanner, which are used by many of our customers in different industries. Furthermore, there is the affordable Honeywell Eclipse scanner. You can see our full selection of barcode scanners here.
Presentation barcode scanners
Presentation scanners are for businesses like pharmacies, stores, supermarkets and other specialty stores. The great designs fit into every POS system and give a precise and quick scanning without pushing a scanner button. There is not much space at the checkout, therefore it is important with a presentation scanner which does not take a lot of space and not is visible to the customers. It is also important that the scanner reads every barcode perfectly, so the customer pays for all products, and the employee does not have to manually type in the barcode. Often, barcodes on fresh products can be curled or easily damaged, why it is especially important to have a high-quality presentation scanner to ensure the quickest checkout as possible. We recommend these presentation scanners Datalogic Magellan 3450VSi and Datalogic Magellan 1500i.
PDA
If you are looking for a PDA unit (handheld terminal) to read and register data, we have a wide selection, for example our own Delfi PM85, which both reads 1D and 2D barcodes, is Android-based, which is the newest standard regarding operative systems for PDA's and handheld terminals. This PDA has a quick processor, touch keyboard and connects to both WiFi and SIM card. If you want to know more about this type of scanner unit, you can see our full selection of PDA's here.