MODULES IN OUR HANDHELD TERMINAL APP
COMPLETE HANDHELD TERMINAL SOLUTION FOR SHOPIFY
Subscription model with fixed monthly payment, full security and no unforeseen expenses. Everything is gathered in a clear package – and it is both quick and easy to get started.
Handheld terminal solutions no longer have to be a complex solution that requires major investment considerations.
In the past, a handheld terminal solution has primarily been intended for larger, well-established companies with a size that requires complex systems to keep track of stock, order handling and logistics. But now it has become possible to acquire a cloud-based handheld terminal solution for Shopify – right down to a single terminal with a subscription solution from Delfi Technologies.
Delfi X Cloud is a complete cloud-based hand terminal solution for mobile Android devices that helps create traceability, increased control in the logistics chain and streamlines the daily life of companies. Companies often have heavy and slow work processes in the warehouse or in the store, which can be significantly streamlined by replacing manual and paper-based processes with a digital handheld terminal solution. Minimize errors on orders in the pick/pack phase by implementing a hand terminal solution which ensures that the right goods are picked, packed and shipped. With Delfi X Cloud, you can create an overview of the company's entire logistics and storage flow.
SUBSCRIPTION BASED HANDHELD TERMINAL SOLUTION
The Delfi X Cloud software contains all the needs you have for product registration. A complete cloud-based solution that is always ready to handle today's tasks in the warehouse, in the store or on the go. In contrast to many traditional handheld terminal solutions, X Cloud is built on a cloud-based platform. This also means that your mobile devices are always fully updated and the latest software versions are always available on your devices – and that the same version runs on all your devices across the organization. The X Cloud software can be integrated into various systems.
HOW DOES IT WORK?
With X Cloud from Delfi Technologies, both small, medium and large companies can now get a handheld terminal solution on a monthly subscription basis integrated with Shopify. It simply means that companies get rid of expensive start-up costs and get a much better overview of their costs. By subscribing to a handheld terminal solution, you avoid all the unforeseen costs of maintenance, updates, ongoing operation, support and repairs of devices. All the costs for the purchase of software, hardware, setup and adaptation and administration are combined in a fixed monthly subscription, which gives companies greater control over the IT budget.
Companies often use the same essential functions across branches and industries – now we have gathered all the functions in one unified and complete solution, which is simply connected to the company's existing Shopify webshop. With Delfi X Cloud, it is therefore possible to get a standardized solution that is ideal for handling the most common registration processes.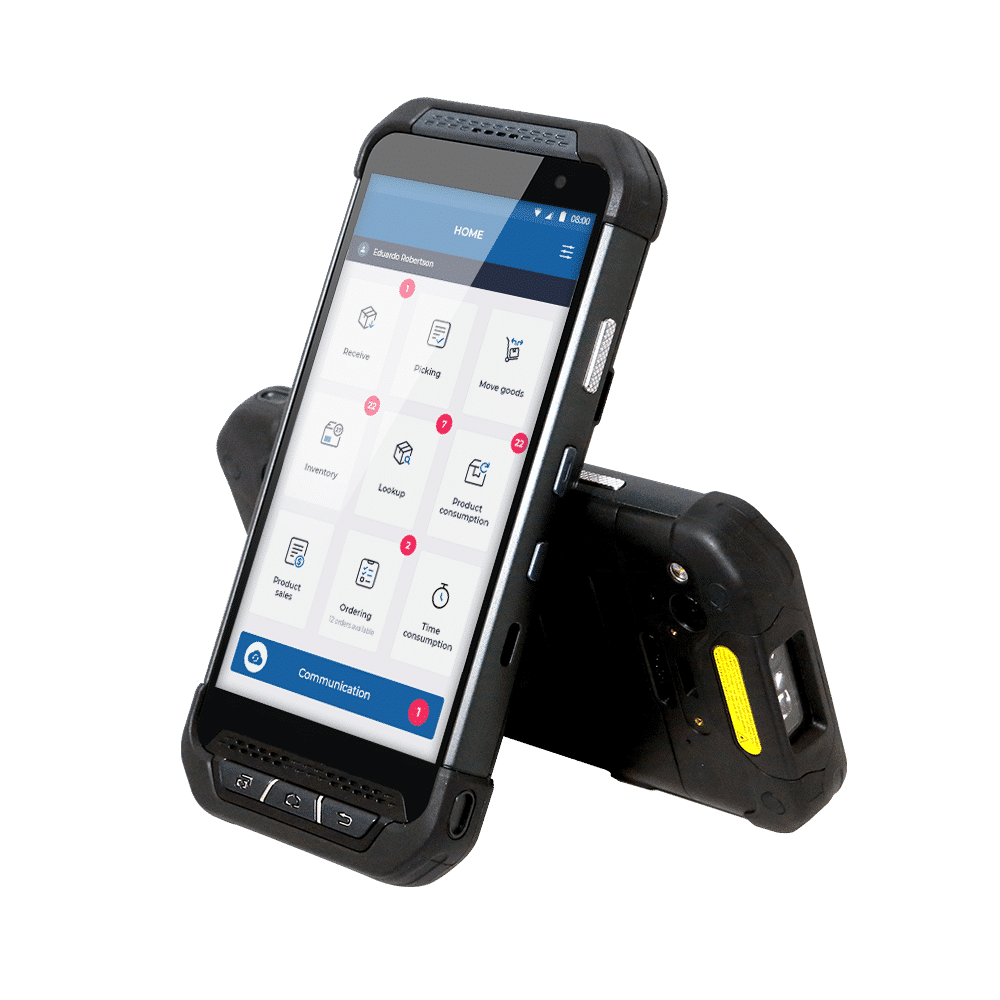 The handheld terminal is included
Delfi PM85, verdensklasse Android enhed
Med til vores X-Cloud løsninger medfølger vores bedst sælgende håndterminal, Delfi PM85.
En moderne, robust og lynhurtig enhed der gør din hverdag meget lettere sammen med vores X-Cloud software.
Service agreement is included, so you don't have to worry.
THIS IS WHAT YOU GET WITH DELFI X CLOUD
With Delfi X Cloud, you get an all-in-one and complete solution for Shopify, where investment is low. Complete security and safety are included in the form of support, monitoring 24 hours a day, guaranteed uptime, guaranteed reaction time, always updated systems, service agreement, training in the solution and continuous development of the software platform.