Scanners for health card app
The yellow health card is now available directly on the phone. The new app from the public sector acts as the well-known health card and provides access to public health services in Denmark.
The "health card" can be downloaded as an app for both Android and iOS, so your patients always have their health card with them. If your patients have children, they can also automatically see their children's health cards in the app.
The new app is a voluntary supplement to the yellow health card, so you still have to keep your physical health card – even after downloading the app.
SCAN THE DIGITAL HEALTH CARD
Today, more and more barcodes are being scanned directly on the mobile screen. The barcode in the health card app contains your CPR number and is used to identify you in the same way as with the physical health card.
Not all barcode scanners can read barcodes from a mobile screen. At Delfi Technologies, we have gathered a selection of barcode scanners that are particularly suitable for scanning the new digital health card.
All the scanners fit the most systems (Novax, EG Clinea, WinPLC, Ganglion, XMO, MyClinic, etc.)
If you have any questions, you are always welcome to contact one of our consultants at tel. +45 70 222 555 or info@delfi.com.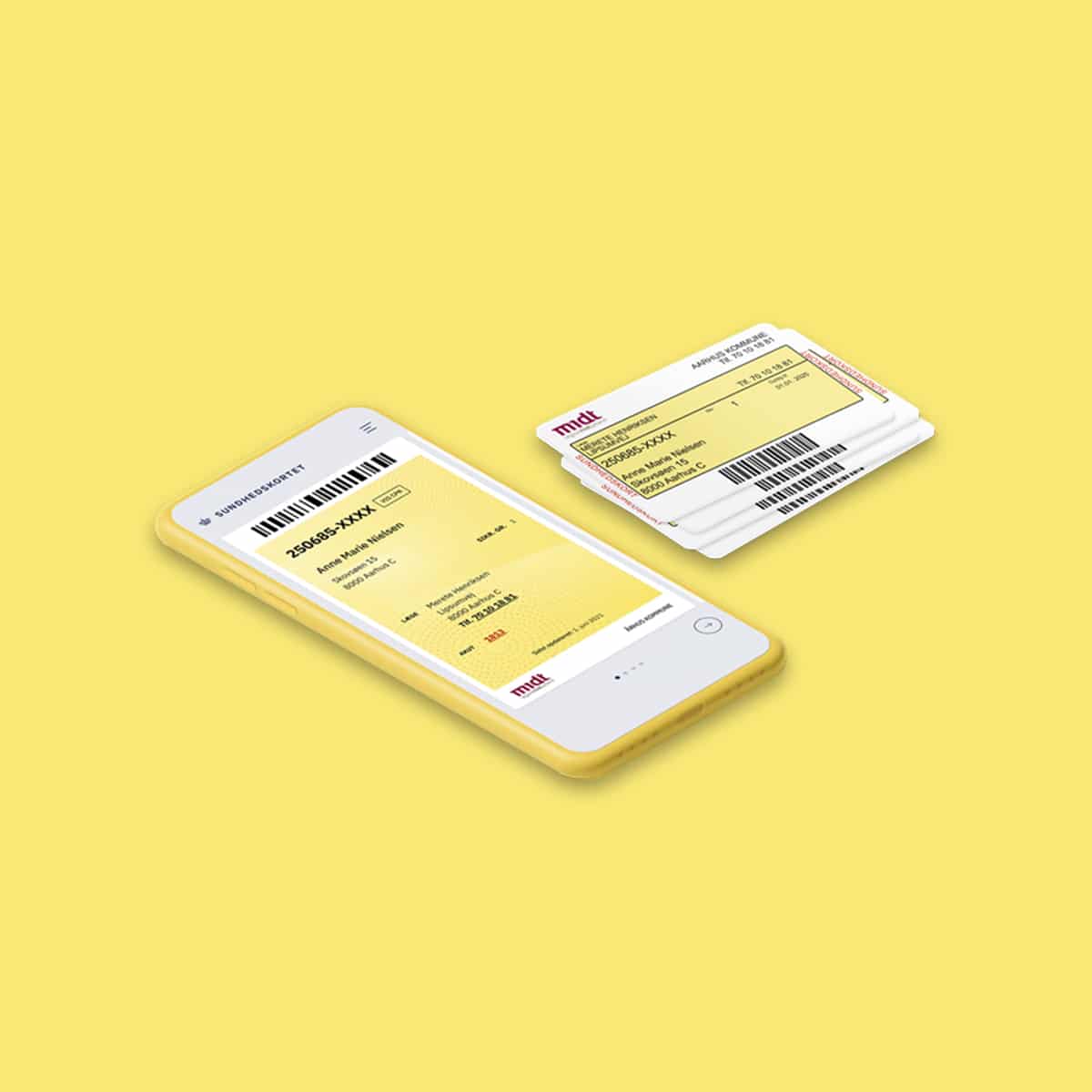 We recommend these barcode scanners
We recommend these touchscreens
Benefits of the digital health card
With the health card app, you can automatically see your children's health cards in the app until the children are 15 years old
Your information is automatically updated in the app if, for example, you change address, doctor or get a new last name
You can block the health card app via borger.dk if, for example, you lose your mobile phone
You can call your doctor directly by tapping the doctor's phone number in the app
Download the health card app
For iPhone – download the app in the App Store here: https://apps.apple.com/dk/app/sundhedskortet/id1553871328
For Android – download the app in the Google Play Store here: https://play.google.com/store/apps/details?id=dk.digst.hc
Facts about the digital health card
The health card app is, like the physical yellow health card, valid documentation of the right to receive public health services in Denmark
To be able to use the health card app, you must be resident in Denmark, be in security group 1 or 2 and have a NemID
The barcode in the Health Card app contains your CPR number
The app has been developed by the Danish Digitization Agency under the Ministry of Finance in collaboration with the Ministry of Health, Danish Regions and KL