POS products for restaurants and takeaway businesses
In the wake of the Corona crisis, most businesses in the restaurant industry are back on track. This also includes takeaway places which were some of the only ones that could stay open under the lockdowns. Due to this, many takeaways experienced an increase in revenue. Regardless of the business you have, you probably have had many worries and done a lot of considerations during the past 1,5 year. Common to many is that they have been using the time to rethink their future business strategies to catch the lost sales. In other words; how to optimize their dining places to once again welcome their customers with renewed strength.
Delfi Technologies can help you choose the right products
At Delfi Technologies, we have sold products for POS systems for many years: from customer displays to barcode scanners and cash drawers – or other devices for a complete point of sale solution. We know how important it is that your business has the best equipment to serve your customers. Choosing the right products can save you both time and money, which you can use on giving a present customer experience.
We have listed some of our most popular products for your business in the restaurant or takeaway industry.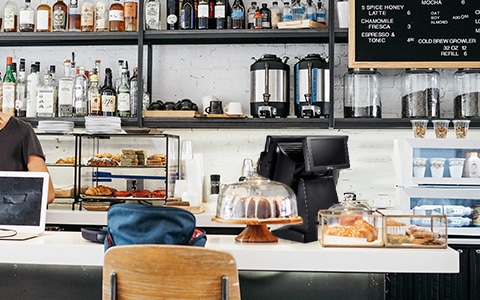 ---
Touch screen for restaurants and takeaway businesses
This Delfi 15″ touch screen has a screen facing the employee from where you can serve your customers. The touch screen has an elegant design and fits into every restaurant or takeaway spot. It provides the necessary overview so no miscommunication occurs. We also sell a wide range of other customer displays, but we particulary recommend this model for your restaurant, café, takeaway spot or bar.
Cash drawer for restaurants and takeaway businesses
You will definitely need a solid cash drawer to support your cash register. Even though most customers use credit cards to pay, it is still a good service to accept cash from your customers. Sometimes you might also need a place to put important receipts, which you can save in the cash drawer as well. This cash drawer is made of steel and has good sections for both cash and coins. It is very user friendly and ressistant for daily use.
---
Barcode scanners for restaurants and takeaway businesses
You might not associate barcode scanners with a restaurant or a café, but it is getting more popular to have shop-in-shops, where you sell products from your suppliers. Maybe you sell the wine you serve to your customers in your restaurant, or special spices you use in the food. It creates a great basis of making additional sales, when the customers reach your cash register to pay for their orders. If you're running a takeaway spot, you might sell sodas or other beverages for your food. A barcode scanner could be a useful tool  and make it easy for you to finish the order and payment since you don't have to type ind the prices manually. We have listed our recommendations of barcode scanners for the restaurant and takeaway industry.
A wireless and durable scanner
This scanner is a very user friendly solution for your employees, who won't need any instructions to use it. It both scans 1D and 2D barcodes and is connected via Bluetooth. Furthermore, it has a really durable battery, which lasts for up to 14 hours.
An efficient, cabled scanner
This scanner is known for it's precise scanning ability, which makes it quick and efficient. It also both reads 1D and 2D codes, and has a quick responsiveness towards reading the barcodes correctly – even in "noisy" environments. The barcode scanner is connected via USB to your POS system.
A ready-to-scan stationary scanner
This scanner is what we call a stationary presentation scanner, which is a good stationary solution that scans instantly without your employees even touching a button. It increases your work flexibility without compromising with the quality.
---
Receipt printers for restaurants and take away businesses
A receipt printer completes your POS system, since the last service you provide to your customers is to finish the order and hand over the receipt. We sell receipt printers from both Epson, Citizen and Bixolon. Here you find some of the solutions we offer.
Epson receipt printer – our most popular solution
With this Epson receipt printer you get a great quality, speed and reliability. Without a doubt, it's an investment to buy this printer for your business. The receipt printer has a mobile connection which makes it easy to connect web and mobile based POS services to a more traditional PC based POS system.
Citizen receipt printer – smart and affordable
This Citizen receipt printer is both efficient and quick, can be adjusted in the width and is an affordable choice. Furthermore, it prints the text in high res and can be configurated to both iOS and Android systems. This printer has an elegant design and therefore fits into trendy environments, where asthetics and quality have to meet. The Citizen printer is also an affordable solution.
Bixolon receipt printers
Here you find 3 different and affordable receipt printers from Bixolon. The functions are the same but the connections to your POS system are different and therefore depends on what system you use: Wi-Fi, Bluetooth or USB. Bixolon provides good speed to a reasonable amount of money, and is a reliable solution with flexible options of connecting to different operative systems – all wrapped in an user friendly design.