How to choose the right label printer
At Delfi Technologies we have a solid selection of label printers, which all have one purpose; to support your business with printing labels. We have qualified knowledge about how to choose the right label printer for your business, so we have made a guide to make it easy for you to find the best label printer for your business needs. The label printers are divided into two categories and as the selection is wide, we know the decision can be difficult. Don't hesitate to contact us for further information or guidance.
What can I use a label printer for?
A label printer can support you with both printing labels, stickers, name tags, posters, and much more, and can be used in several industries and businesses; it all comes down to what your needs are. A label printer can both support you in your warehouse, for printing freight labels, and in your store with marking products.
Furthermore, you can design and print your own labels with the unique label print software, Bartender Label Software.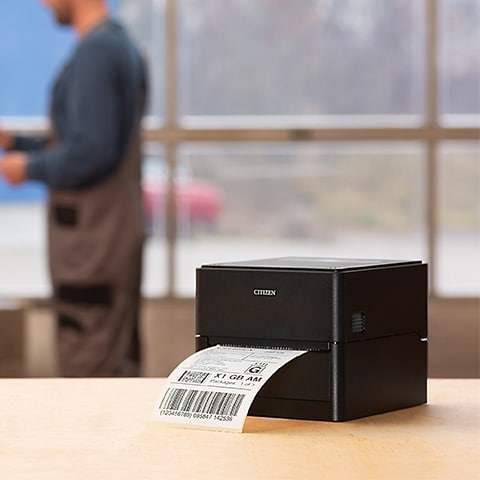 ---
Label printers for Direct Thermal (DT) labels
A label printer with Direct Thermal denotes what type of label material it's able to print on. With DT, the colour lies within the label, and the printer just needs to heat the label to make the text and colour visible. Direct Thermal is less durable and is especially suitable for freight labels. Below we have listed our recommended label printers for printing Direct Thermal labels.
Desktop label printer for Direct Thermal labels
If you have a small need to print Direct Thermal labels, where you estimate it's not necessary to print more than 500+ labels, we recommend these two label printers from our loyal partners Citizen and Zebra. Both printers are characterized by having a small and practical size which makes it easy to move the printers for your needs. This means that you can use it in your warehouse when printing freight labels, and easily bring it with you into your physical store to print labels for your products. Both models are super user-friendly and can be used by all your employees without any further training.
Industry desktop label printer for Direct Thermal labels
If you have a medium need to print Direct Thermal labels in the magnitude of 1000+ labels, Citizen has made this label printer where the mechanics are made of steel like an industrial printer, which makes it robust and durable. It prints quickly and efficiently and is especially suitable to print freight labels. It's connected to your existing system via USB, but if you want an Ethernet connection you have to buy the ethernet module as well.
Industrial printer for the big need to print Direct Thermal labels
These big, industrial label printers from Citizen and Zebra address the big, industrial need where the magnitude is more than 3,000 labels. Their sizes and toughness make them particularly suitable to support your logistic and warehouse business, where you need to print thousands of labels each day.
Print your freight labels with Shipmondo
Are you running a webshop, then Shipmondo is an efficient tool to pack and send goods from your warehouse. Shipmondo is the primary freight solution for many companies since it's easy to connect to your existing economy system via a plug-in on your webshop. Through this, you can ship orders all over the world across shipping companies. With a label printer connected to Shipmondo, your freight labels, return labels and delivery notes are quickly printed. Then you just have to put the label on the package and wait for it to be collected by the shipping firm and delivered to your customer.
Read more about Shipmondo here.