Delfi Barcode Guide
When you need a complete overview of goods and flow of items, you cannot avoid using barcodes. Today, barcodes are a must within modern and efficient inventory management. However, with many different types of barcodes for different needs, the barcode jungle can be challenging to navigate in. Therefore, we have created this barcode guide where you can get an overview of the most useful barcode types and frequently asked questions. Barcodes may not get much attention from you, but have you ever wondered where barcodes come from? What is a barcode and what do the different numbers, combinations, letters and different formats mean?
Barcode history
Late 1940: Inspired by the Morse Code, the idea of ​​using barcodes was developed by Norman Joseph Woodland and Bernard Silver in the late 1940s. Usually, Morse Codecs were used via sound or light. For example, a short sound followed by a longer sound means the letter A. In this way words could be formed next to sounds or lights, in different combinations. This technology was subsequently brought to print, as what we know from today's barcode, more specifically thick and thin lines in combinations.
1952: Woodland and Silver were granted their patent for the actual barcode and barcode scanner in 1952. The first time the barcode was used commercially was on train wagons. Each carriage on the train got its own barcode on the side of the carriage. The barcode indicated information about the owner, equipment types and identification number. The barcodes were read by a tracking scanner – for example, located at the entrance to a yard while the train was passing.
1974: It was June 1974 that the first barcode ever was scanned – it was a Universal Product Code (UPC) barcode on a package of Wrigley's chewing gum in Marsh's store in Troy, Ohio. Today, barcodes have an important role in particularly how we improve the way businesses collect and share information, as well as optimize the flow of goods in the supply chain.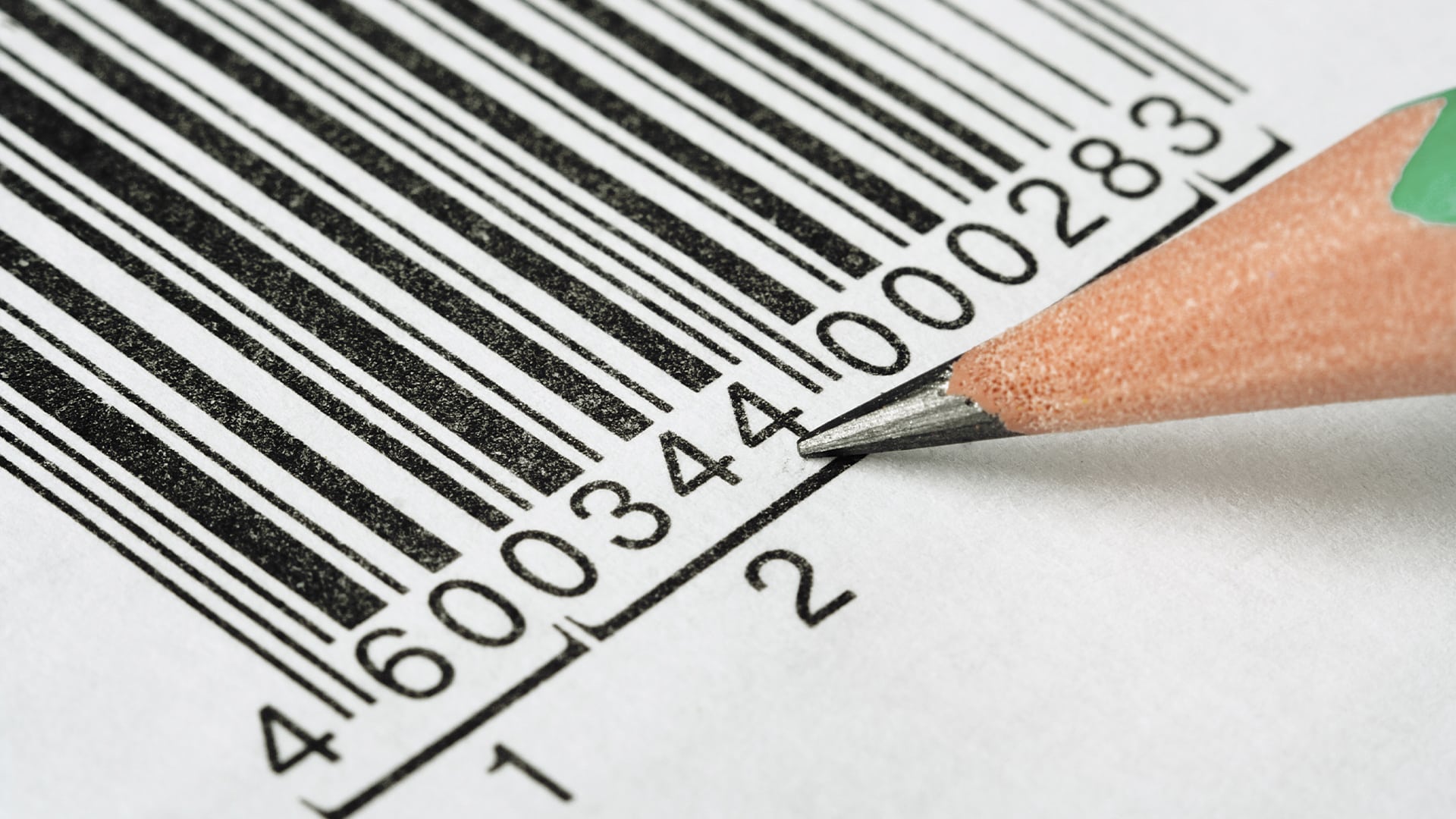 What is the difference between 1D and 2D barcodes?
In general, there are two different classes of barcodes – 1D and 2D barcodes. The 1D code is the barcode you know from the milk carton or your health insurance card. You may have scanned the 2D barcode, also known as QR code, with your smartphone after downloading an app from a magazine or similar. It is not only the layout of the barcode that makes the difference between the two barcode types, but in particular also the functionality of the barcode. The big difference between the two classes is the amount of data that the barcode can contain. The 2D barcode can contain far more data than the 1D barcode.

1D Barcodes
1D barcodes, also called linear barcodes, are the most common type of barcode. It is the code you most often come across and most typically associate with a barcode. The 1D code is the most commonly used barcode and it is found especially on consumer goods in the retail sector. The traditional 1D barcode consists of a number of lines and spaces of different widths to encode information.
This type of barcode may contain a limited amount of characters, otherwise the barcode will be too long. The more characters the 1D barcode contains, the longer (wider) the code becomes. Barcode scanners read the code horizontally via a laser beam that reflects the barcode and interprets the information contained in the barcode such as product number, production date, size, etc.
Barcodes are used as a unique product id on consumer goods in the retail sector. Here, the first two numbers in the barcode typically indicate which country the item is registered in, but not necessarily which country the item originated from. The next five digits are a marketing number for manufacturer, importer, wholesaler or retailer. Then there are five digits, which is the marketer's internal item number, and the last digit is a control digit.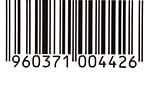 2D Barcodes
2D barcodes use patterns of squares, dots, and other shapes to encode data. Due to the structure of the 2D barcode, it may contain more data than the more simpler 1D barcode. Where the 1D barcode usually contains 8-15 characters, the 2D barcode can contain up to 2000 characters, while displaying at very small sizes. The data is encoded on both horizontal and vertical patterns, and can communicate far more complicated tasks. Therefore, 2D barcodes also require improved scanning equipment in the form of 2D barcode scanners and 2D handterminals / PDAs.
Unlike the 1D barcode, the 2D barcode can also contain images, URLs, voice and other types of binary data. This means that you can read far more information from this barcode. A 1D barcode scanner can only read 1D barcodes and thus not 2D barcodes.
2D barcode scanners are often used to read 2D barcodes, although some 2D barcodes, like the known QR code, also can be read with a smartphone. Most 2D barcode scanners can also read 1D barcodes, which provides greater flexibility as you do not need a barcode scanner for different types of barcodes. So unless you have a basic need to read only 1D barcodes, it can be an advantage to upgrade and thus future-proof your barcode scanner with a 2D scanner.
The advantages of 2D barcodes
The structure of the 2D barcode also contains error correction measures that ensure that it can still be read even if it is partially damaged or damaged – for example, during transport or simply worn over time. 2D barcodes are therefore less vulnerable to scratches, poor pressure and the like. The barcode provides sufficient redundant data and is encoded to reconstruct the original information, even with significant parts missing.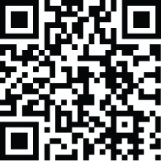 Which barcode should I choose
Under the two different types of barcodes there are also a number of other subclasses of barcodes. Therefore, you must choose the type / types of barcodes that meet your needs. The best-known types of 1D barcodes are EAN (European Article Numbers) and UPC (Universal Product Code). These are the ones primarily known from retail. You often sees the GS1-128 barcode type in logistic contexts. There are also many other types of barcodes that are not used as often. If you need help to find the right barcode solution, we are of course always available.
EAN-13 is composed in this way: The first two numbers in the barcode indicate in which country the item is registered, but not necessarily which country the item originated from. The next five digits are a marketer number for manufacturer, importer, wholesaler or retailer. Then there are five digits, which is the marketer's internal item number, and the last digit is a control digit. This barcode is the most widely used in Danish retail.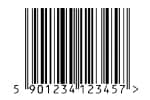 UPC-A is used in the same way as the EAN barcode. Although there are several different types of barcodes, the UPC symbol appears on almost every retail product in the United States, making it the most versatile and recognizable type of product code in this part of the world, and is frequently used in Canada, Europe, Australia and New Zealand. It consists of consists of 12 numeric digits assigned to each item. EAN and UPC are very similar, but each has their main geographical scope.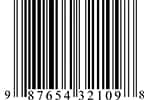 GS1-128 was developed with the aim of creating a global standard for the exchange of data between different companies. The barcode is typically used for marking packages and pallets in a logistic context, ie. in warehousing or transport handling.
Where the EAN-13 barcode contains only one GTIN (Global Commodity Number), the GS1-128 barcode may contain a wide range of information, including: production or shelf-life dates, weight and batch numbers, ie typically information that varies each time the product is traded. The information is encoded in the GS1-128 barcode using Application Identifiers (AI) and their associated data fields. It can contain 48 alphanumeric characters in one barcode.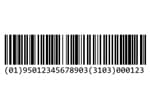 What is the difference between UPC-A and EAN-13 barcodes
Both types of barcodes are used in stores around the world, the biggest difference is that UPC-A is the most preferred in the United States while EAN-13 is the most common in all other countries. The encryption of the two is very similar to each other. We recommend using UPC-A barcodes only if you are dealing with products to be sold mostly in the US, and then applying EAN-13 barcodes to products for all other countries will be the best solution.
Print labels and barcodes – with your own design
It is possible to design and print your own barcodes and labels with a label program. User-friendly software is available to make this task more manageable. Today, many businesses are using BarTender® label software, which makes it possible to design and print, among other things, barcodes, price tags, freight labels, warehouse and logistics labeling, coding of RFID labels and membership cards. With the BarTender software, you can print any layout, on any printer – for example on a label printer.
Seagull Scientific is a well-know manufacturer of label software with whom we have worked closely with for many years. If you want your barcode / label to look in a certain way, or have your logo or something else on the label, then it is BarTender you should choose. You can always contact us if you would like a free trial.
BarTender offers a variety of dynamic features and benefits to help you increase productivity.
With BarTender you can, among other things, get help to:
Accelerate the speed of goods going through the logistics chain
Get the right medication for the right patient – in the right time
Be sure employees know how to handle hazardous chemicals
Warn a parent of a potentially harmful allergenic substance
Enable health authorities to trace a foodborne illness back to where it occurred
Improve retail control of shrinkage and loss avoidance
And much more…
The future of barcodes
RFID – is an abbreviation for "Radio Frequency IDentification" and uses a technology where digital data is encoded into RFID tags or labels and subsequently captured with a RFID reader via radio waves. The way RFID is used is similar to barcoding in that data from a label or tag is captured by a device, but here all available RFID tags with associated information are stored in a database at once – quickly and easily. However, there is a notable difference, namely that RFID tags can be read without being in direct view. An example of use could be a clothing store that has RFID labels on all their items. With the annual inventory count, with the RFID technology, it is possible to collect data from all the goods at the same time, using an RFID reader, which can read RFID tags up to 30 meters away. Another example of application: A Danish bricklayer company is using RFID to create traceability by using RFID labels on the tools they lend out. RFID tags can be placed inside the tool, in a hidden place so that it avoids being damaged while providing traceability and easy handling when lending.
Digimarc – is an advanced invisible barcode that provides sound and image recognition. When Digimarc is used as a barcode type, product packaging, packaging, etc. is transformed into an online interactive barcode. Subsequently, when a product is read with, for example, a mobile device, the user / clerk can obtain information about the product, which is linked to an online database. The technology is known, among other things, in wine apps. When a picture is taken of a wine, you can get information about what country it is from, price, product information, etc.
Direct part marking (DPM) – is a method of permanent marking with 2D codes with product information, serial numbers, date codes and barcodes etc. Among other things, 2D-QR codes with laser engraving can be printed. This method is used in industries where permanent marking is a must. In the aerospace industry, an aircraft part can be in operation for more than 30 years, here DPM can be an advantage to facilitate reliable identification of the parts. DPM can assist with data logging related to security, warranty issues and meet regulatory requirements.